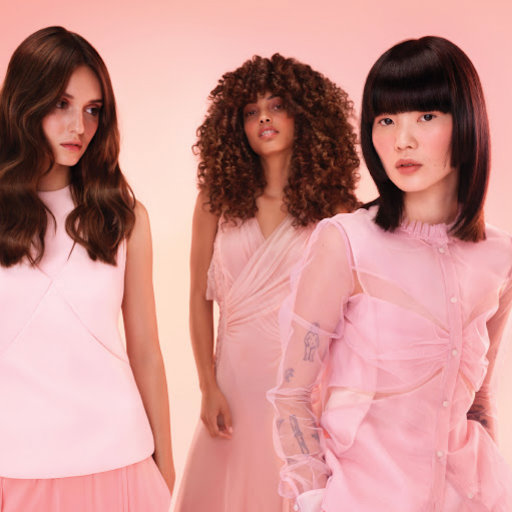 Our guests with curly, thick, textured, and/or chemically processed hair know one underlying fact: Not all products are created equal! Our team and guests with beautiful yet challenging textured hair types have learned the hard way that certain products can suck the life out of hair .  .  .  .  .  .  leaving it dull, tangled and unmanageable. The idea of achieving healthy, shiny, happy hair can seem far-fetched when every product never quite seems to do the trick. .  .  .  .   that is .  .  .  .  .  until now!
HELLO NUTRIPLENISH
Aveda's new Nutriplenish line replenishes all.  .  .  .  .  and we mean ALL.  .  .  .  .hair types and textures of depleted, dry hair. It contains natural, rich butters and oils that provide long-lasting results, three full days in fact! And of course, it wouldn't be Aveda if it didn't have an intoxicating aroma! Nutriplenish is fresh, spicy and floral.
The Nutriplenish line consists of:
a light moisture shampoo & conditioner
a deep moisture shampoo & conditioner
leave-in conditioner
multi-use hair oil
Nutriplenish is safe for color-treated and chemically processed hair, 100% vegan, and 94% naturally derived.
Your hair is in for a healthy treat, my dears! Check out our guide below to get started.
HYDRATION VS. MOISTURE

Yes, there is a difference! Knowing that difference will help you understand how much of each your hair needs. What sets Nutriplenish apart is that it provides both and allows you to customize by how much hydration and moisture your hair needs.
Hydration: raising moisture and nutrient levels within the hair strand through the use of humectants, emollients, proteins, amino acids and vitamins that penetrate the hair. When your hair lacks hydration, it will feel brittle and may break easily.
Moisturizing: using emollients, butters and/or oils to create a barrier to help seal moisture in the hair. Moisturizing helps the hair retain water. The primary function of a moisturizer is to seal and smooth the cuticle.
KNOW YOUR TEXTURE

Different hair types have different needs. Highly textured hair has a thinner layer. The hair shaft is more susceptible to damage because of its twists and turns in the curl pattern. Loss of lipids from chemical damage, shampooing and normal wear-and-tear will increase friction. It's important that this hair type get extra moisturizing, to replace lost lipids to reduce friction and smooth the hair cuticle.
Take a look at this chart to determine your texture type: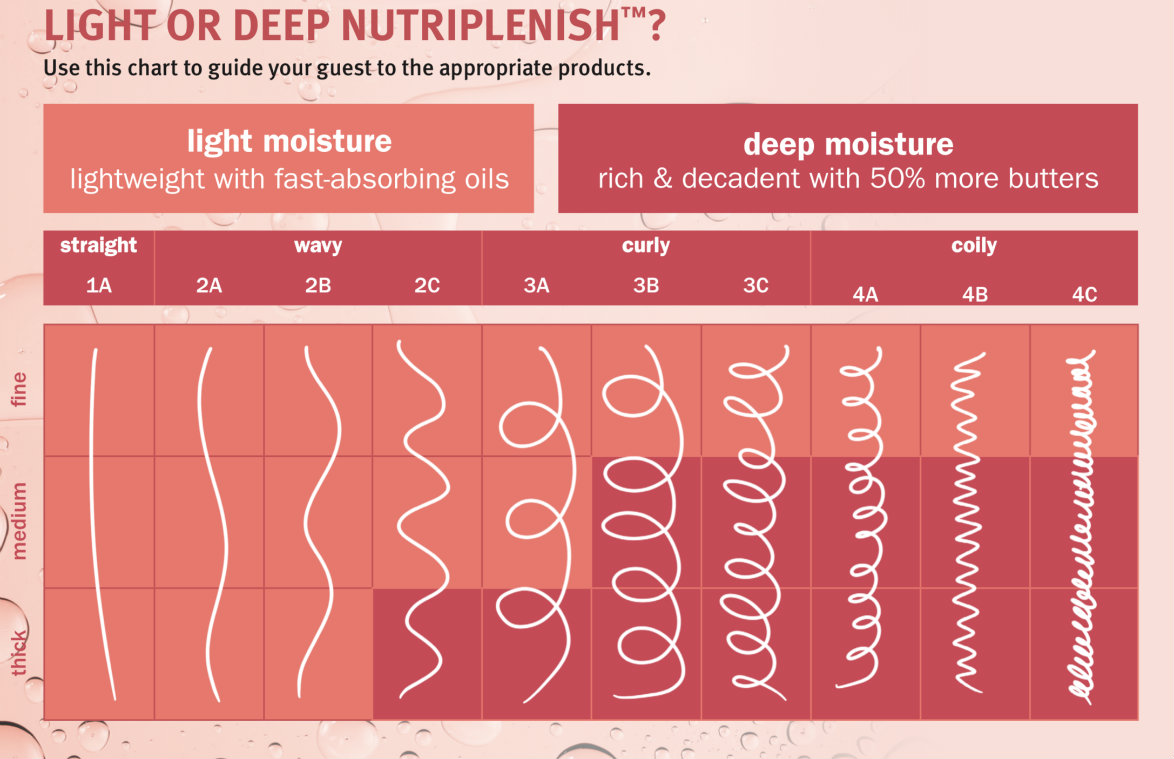 Light Pink: Go with Nutriplenish Light Moisture which cleanses and replenishes dry, depleted hair with hydration without weighing it down.
Deep Pink: Go with Nutriplenish Deep Moisture which has 50% more butters than the light version for deep hydration and replenishment.
A little of both: Lucky you! You can play with both light and deep formulas to see what suits you best.
GO NATURALE

The clean and organic beauty revolution has taken over because it's healthier for you and the environment, of course! Certain toxic ingredients in hair-care products have linked back to various illnesses, including cancer. Aveda has always used mainly natural and organic ingredients in their products, as they are more beneficial and stronger than anything created in a lab.
The superfood complex in Aveda's Nutriplenish is a blend of powerful, natural ingredients:
Organic pomegranate seed oil provides rich omega-5s that nourish dry, depleted hair.
Organic coconut oil penetrates the hair shaft to help improve hydration from within and minimize protein loss.
Mango butter nourishes hair to increase softness and smoothness.
Aroma ismade with cocoa and certified ginger and cardamom.
Also, Nutriplenish is free from: silicones, sulfates, parabens, petrolatum, mineral oil, formaldehyde and donor, synthetic fragrance and color, animal byproducts and drying alcohol.
ADD A BOOST

Nutriplenish Leave-In Conditioner & Multi-Use Hair Oil
When your hair requires a little extra love, Nutriplenish has two game-changing leave-in products that add extra shine, softness and promote overall health.
Nutriplenish Multi-Use Hair Oil:
This can be used as a scalp massage oil, a pre-shampoo treatment, a leave-in treatment, a post-styling treatment or overnight treatment. It gives you instant moisture and shine, and consists of a 100% naturally derived nutrient blend with five power oils.
Nutriplenish Leave-In Conditioner:
Instantly nourish, detangle and protect your hair for up to 72 hours! It also protects your hair from the drying effects of the sun and thermal styling up to 450°. Great for all hair types.
GET A 'HEALTH CUT'
Getting your hair trimmed every 5-8 weeks sheds thinning, fragile, worn-out split ends and will keep your hair looking visibly healthier, shiny and more fluid. Because curly hair shrinks with a cut, those lucky ones with curls can go longer without cutting. We recommend adding a regular cut to your routine that best suits your hair's length, thickness and texture.
We can't wait for you to try Nutriplenish! Stop in to Nuovo Salons in Sarasota and Bradenton to shop Nutriplenish and any other Aveda products. Book your next cut with us!
Happy New Hair!