Your search for the perfect hair dryer is over. At NUOVO Salons, we believe that both the products and tools we use make all the difference in our personal style. That's why we invest in the very best . . . from our commitment to Aveda products to sourcing hair dryers all the way from Paris. When shopping for the next addition to your beauty cabinet, you can rest easy knowing that NUOVO's recommendations are expert-approved and well-loved by the best team in Sarasota.
View this post on Instagram
Why Invest In A Hair Dryer From Paris?
Our investment in Velecta hair dryers has been years in the making! While many other leading hair dryer brands have cornered the market, we quickly discovered that these popular dryers were lacking in longevity. As our team went through hair dryer after hair dryer, we knew that we simply had to find a solution . . . not only for our team but for our entire NUOVO family.
The NUOVO community deserves the best of the best . . . so our co-owners Terry and James set off on a campaign to find the ultimate hair dryer for our stylists and guests. After discovering Velecta, we worked closely with the CEO to ensure the brand was a perfect fit. Terry handled concept relationships while James tackled the logistics . . . and so the dryers were packed in Paris and shipped straight to our salons.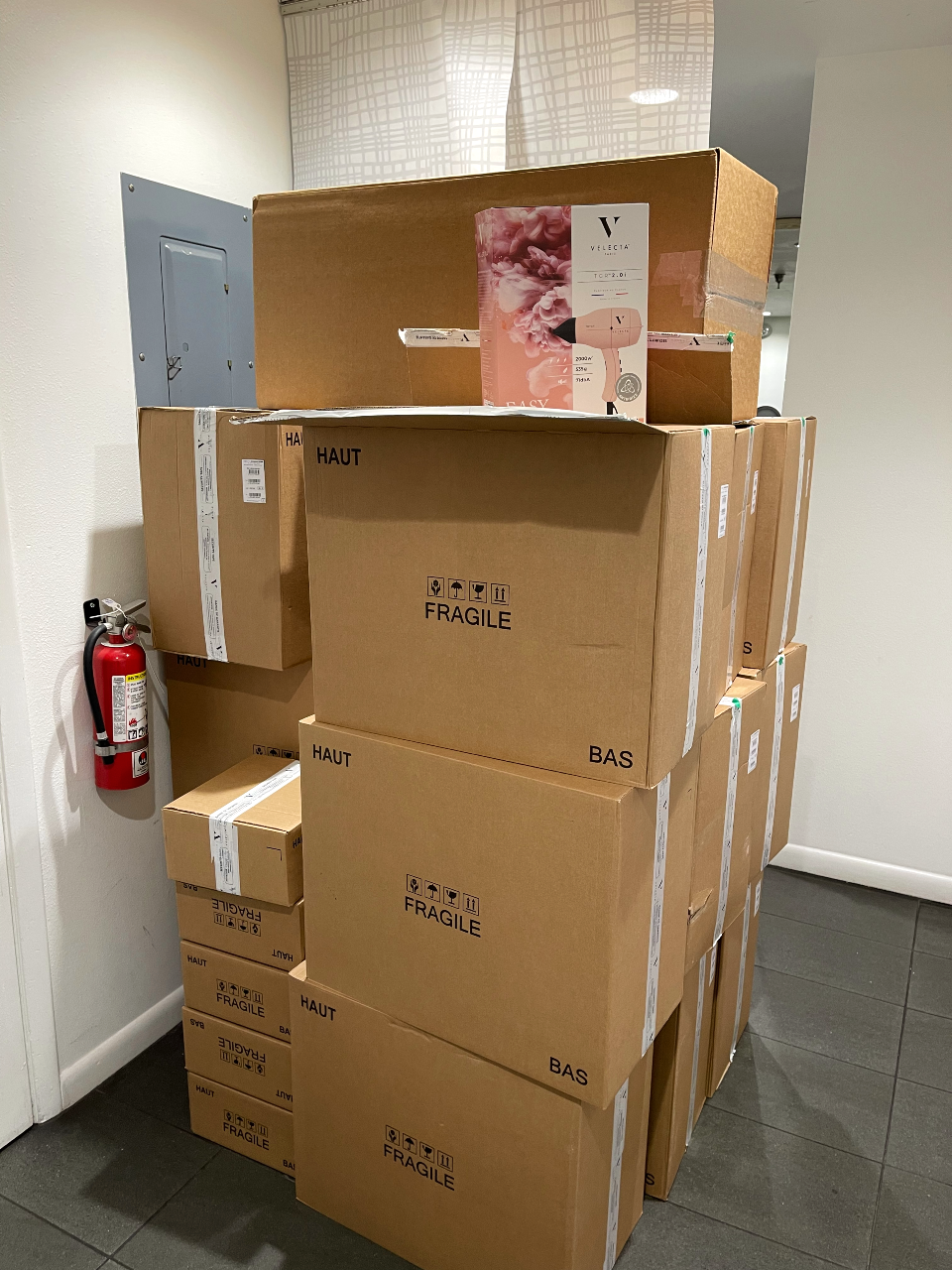 Across the pond from Paris!
Currently On Our Shelves …
Meet your new styling must-have! The Velecta dryers feature higher durability than leading market brands, exceptional ergonomics and ionic technology to keep you looking très chic, day after day.
We invested in two models with unique capabilities—so every guest can choose the right dryer for their desired look, styling routine and budget. 
Iconic TGR 1.7
This ultra-light, powerful and quiet hair dryer has become the favorite of professionals in France and abroad. The compact style is ideal for guests seeking salon-quality styling from the comfort of their home. Priced at $199, this dryer is more affordable than other leading brands—and is built to last and last.
This model comes in three different colors (black, blue and blush) and features ionic technology—which tames frizz, eliminates static electricity, protects from heat and leaves hair soft and shiny. 
View this post on Instagram
Iconic TGR 2.0
This model is ideal for those seeking a little more oomph in their styling techniques. Offering more power than the Iconic TGR 1.7, this dryer is slightly heavier and even more durable. It's priced at $219—perfect for beauty gurus and expert stylists alike.
This dryer features two blowing speeds and temperature settings for perfect power control, ionic technology for sleek styling and precise volume and three elegant color options: intense black, celestial blue, and powder pink.
High-Powered Styling At Your Fingertips
Want to experience the magic for yourselves? All of our stylists are now equipped with a Velecta hair dryer to achieve the perfect blowout, every time. Treat yourself to a styling sesh and love your look all day! Book online to reserve your appointment. 
Ready to level up your styling routine? Stop by the salon to shop, or call (941) 684-9000 for personalized recommendations.