As the owner of Nuovo, it's always a thrill to hear from friends after they had an enjoyable experience at the salon. Usually, they want to praise their service providers, or tell me how much they love their look. But a recent text I got from a dear friend was a little different!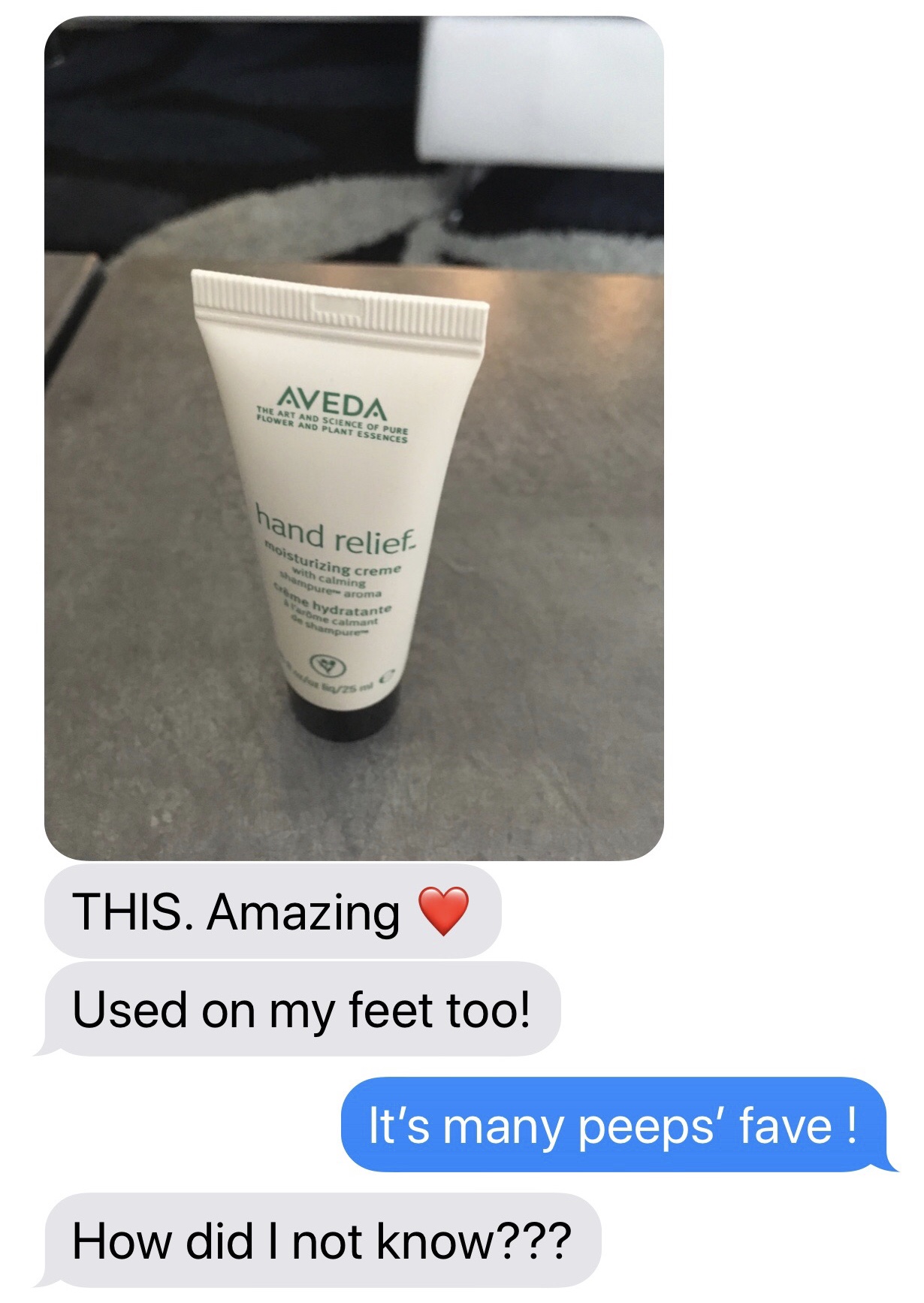 "How did I not know?" about Aveda Hand Relief is a million-dollar question! This crowd-pleasing creme has been one of Aveda's best-selling products for over 20 years! We have Hand Relief at the ready all over Nuovo Salons for manicures, hand and arm massages, and Aveda Hand Rituals .  .  .  .  .  so to us, it's omnipresent.
But if you don't have Aveda Hand Relief at arm's reach at any given moment . .  .  .  . you may not know why we're so gaga over it. Here are my top five reasons why Hand Relief is the absolute best hand lotion, hands down. (See what we did there?)
IT HAS A CRISP, CLEAN FRAGRANCE. Like all Aveda aromas, Hand Relief's signature scent is derived from natural ingredients. In this rich, nourishing creme you'll find certified organic orange, lavendin and eucalyptus. The effect is a citrusy unisex aroma that's light, fresh and lingering, but never cloying.
IT HYDRATES INTENSELY. Don't let that light scent fool you: This creme is potent. We've seen it turn around even the driest cracked and chapped hands, leaving them soft and supple. Andiroba oil, meadowfoam seed oil, sunflower seed oil and other natural moisturizers infuse Hand Relief with rich nutrients that hydrate deeply.
View this post on Instagram
IT'S GENTLE. Who's coming in to our salons over and over to replenish their Hand Relief? Guests with eczema. Guests who use it on babies and children. Guests with extremely sensitive skin. Hand Relief is formulated with natural antioxidants like vitamins A and E, and does NOT contain the many harmful ingredients found in other rich hand cremes .  .  .  .  .    no-no's such as parabens, mineral oil, petrolatum, formaldehyde, lanolin, synthetic fragrances, or animal ingredients. Yes, like other Aveda products: Hand Relief is cruelty-free!
IT LASTS AND LASTS. Like all Aveda products, Hand Relief is concentrated, so a little goes a LONG way. Not only that, its penetrating moisture lasts through two or three hand washes. For our busy guests, that makes a huge difference. We also love that it diminishes the signs of aging and evens out skin tone over time, thanks to the brightening powers of licorice extract.
IT ABSORBS QUICKLY. Most concentrated hand cremes tend to leave a greasy film that rubs off on anything you touch. Hand Relief has a silky finish that rapidly absorbs. When the editors of Allure named Hand Relief one of its "Best of Beauty" products they said, "You can smother on this cream without turning hands greasy; it's entirely possible to type on a keyboard after using. All that's left: softness."
Was that five? Oh, we have a bonus reason why we love Hand Relief so much .  .  .  .
IT MAKES A GREAT GIFT! Oh my dears, if we had a nickel for every time we were stumped about what to get someone on our gift list, we'd be retired. Over time, we've learned Hand Relief is one of those go-to gifts everyone appreciates. The original scent is appropriate for everyone, but Aveda also makes Hand Relief available in limited-edition aromas throughout the year.
During October / Breast Cancer Awareness Month, Aveda donates the proceeds from its special Pink Ribbon Hand Relief to the Breast Cancer Research Foundation. Aromas that have been featured in limited-edition Hand Relief are invigorating Rosemary Mint, calming Shampure, intoxicating Beautifying, and spicy Candrima .  .  .  .  .  all have gone on to delight our friends and family at gift-giving time.
View this post on Instagram
But my dears, you don't have to take my word for how fabulous this miracle creme is!  .  .  .  .  .  . Here are hundreds of reviews from real people about their experience with Aveda Hand Relief.
If you need further convincing, simply drop by any Nuovo Salon location in Sarasota or Bradenton and try it! We'd be happy to let you experience Hand Relief right then and there. You might just love it so much you'll text about it to a friend!