Put away the flat iron! These days, we are all about embracing our natural texture. With the right products, you can achieve the hair of your dreams, keeping your locks healthy and damage-free—no heat needed. Whether your hair needs a little nourishment or intensive repair, we've got all the products you need at Nuovo Salons.
Nourish Your Natural Hair
It's not news that heat styling can leave your hair dry and brittle. If this sounds like your hair, never fear. Aveda's Nutriplenish line combines nutrient-rich superfoods like pomegranate oil, coconut oil, and mango butter to restore, soothe and rejuvenate lackluster hair. With replenishing action that's 94% naturally derived, you'll get that bounce back as soon as you make the switch to these products.
The Nutriplenish line includes two options: light and deep moisture. To figure out which product is right for you, you need to understand your hair type and texture. Not sure what that is? We've got it covered.
Think of texture in terms of the size of your individual strands. Texture can fall into three categories: fine, medium, and coarse. If your strands are skinny and slippery, you have fine hair. You may be more prone to oily scalp and have difficulty holding style.
If your hair takes a long time to dry and frizzes up easily, you are blessed with coarse hair. So while your hair is more tolerant of heat styling, your strands need more nourishment. If your hair can be described as a little from Column A and a little from Column B, you have medium texture. (Hint: most people fall under medium.)
Hair type, on the other hand, is all about curl pattern. Is your hair straight, wavy, curly or coily? Hair type and texture is a spectrum, and understanding your hair is the key to picking the right products. For example, fine and straight hair would be satisfied with light moisture, while coarse and coily hair would require deep moisture to bring out its natural luster.
Break it down with this chart: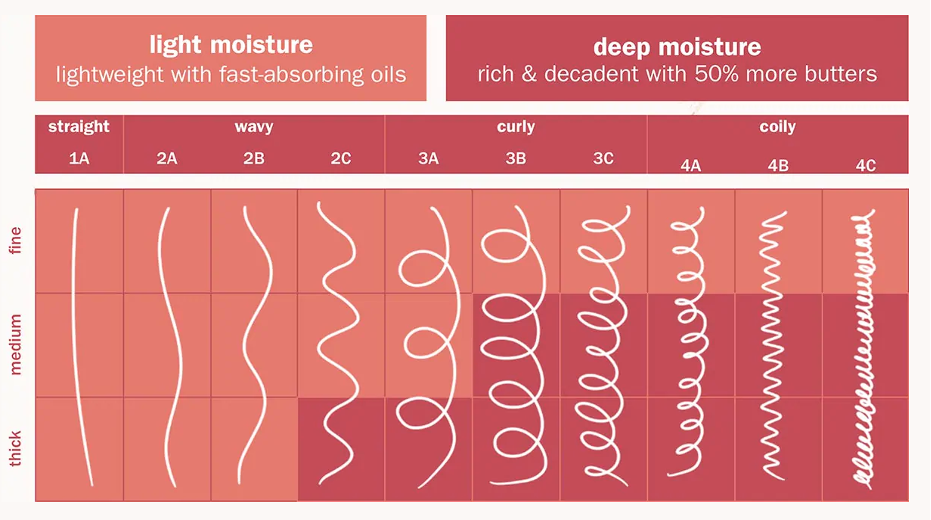 via aveda.com
The Nutriplenish line contains shampoo, conditioner, leave-in conditioner and a multi-use hair oil. You can shop the collection here.
Revolutionary Hair Repair
View this post on Instagram
It's tempting to reach for the curling iron on the regular to freshen up your locks. The problem with that is, before you know it, you'll be reaching for heat tools as a cure for getting unmanageable hair to behave. Trust us—we've been all up in that vicious cycle. The good news is, the new Botanical Repair line is here to break it.
How do you know if your hair is damaged? Chances are, if you color or chemically treat your hair, it probably is. If you're unsure, take a look at your ends. Are they breaking or thinning? It's time to reach for Aveda's new Botanical Repair line instead of heat tools. This line is formulated specifically for all hair types and textures with three goals in mind: repair from within, prevent breakage, and protect against future damage.
The Botanical Repair line is 94% naturally derived, vegan and cruelty-free. It features strengthening shampoo, conditioner, leave-in treatment and a masque. (Browse the products online here.) For a dramatic turnaround of damaged hair, request a Botanical Repair treatment the next time you're in your stylist's chair at Nuovo—it takes just about 10 minutes to achieve an amazing transformation.
If you're ready to embrace your natural hair but don't know where to start, book an appointment with us here. You are just one consultation, treatment, or product away from your dream hair!