As we dive into 2024 headfirst, now is the time to revamp your wardrobe and embrace the hottest fashion trends. At NUOVO Salon, we're excited to help you stay ahead of the curve , and two standout styles are here to make a statement: the return of the peplum and vibrant, bold colors.
Return of the Peplum
It's time to bring that peplum piece out of hibernation, because it's making a stylish comeback.
The peplum—a short overskirt or ruffle that flares out from the waist—is a timeless classic that gives sophistication and femininity. Pair a peplum blouse with tailored trousers for a polished office look, or choose a peplum dress for a romantic dinner date. No matter what look you're going for, adding this bold silhouette effortlessly enhances your curves and adds a touch of elegance.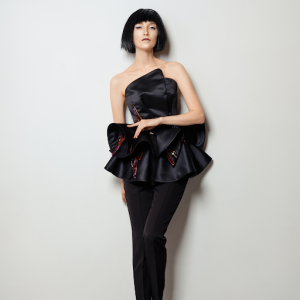 Bold Colors for Brisk Temperatures 
Infuse your wardrobe with electricity as bold colors: think vibrant pinks, out-there aquas, and purpley browns. 
For a delightful pop of color, consider the allure of bright pinks. These lively and eye-catching hues exude a sense of playfulness and confidence. 
Embrace the refreshing charm of playful blue-green, a shade that evokes both soothing and lively energy. 
For a touch of sophistication, rich yet bright browns offer a warm and earthy palette that compliments any occasion. We are seeing browns infused with purple provide bold looks this season.
Experimenting with these vibrant and expressive colors empowers you to celebrate your individuality. Don't hesitate to combine these hues with classic neutrals like black, white, and gray to craft a subtle yet exciting look. Whether you choose a pink dress, an aqua top, or purpley-brown accessories, our stylists are at your service to help you discover the perfect hairstyle that compliments these spirited choices.
NUOVO in Style
At NUOVO Salon, we understand fashion trends are about more than just clothes; they're about creating a complete and polished look. Our goal is to make sure you not only look your best but also feel your best. When you visit our salon, you're not just getting a haircut; you're getting a transformation that enhances your overall style and self-confidence.
Book today to pair your new style with a hair refresh.